Hello everyone!
Long time no post for me! I apologize.. Last week few weeks I have a whole bunch of quizzes/midterms and still have a whole bunch to do -_-;; So very stressful...
Anyways, I thought I would do a quick post on some gel & cream liners~ (woo.. so many eye liner topics!! I will remind myself to switch it up in the next post!)
Anyways, here is some info on gel & cream liners and their differences. Enjoy~
I've always had problems with liquid and pencil eye liners.. so one day I decided to try gel liners and man... was it amazing!!
I will be reviewing liners from 4 different brands (2 gel, 2 cream; excuse me if any prices are wrong! My memory of them has left me...).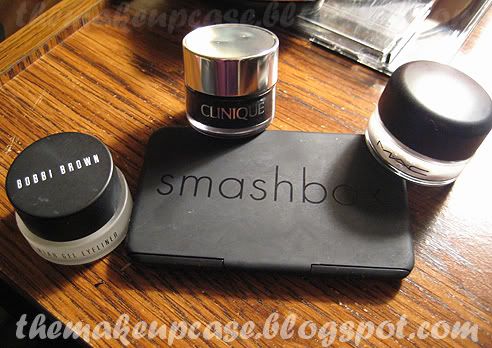 All colors are black =) I needed to keep it consistent!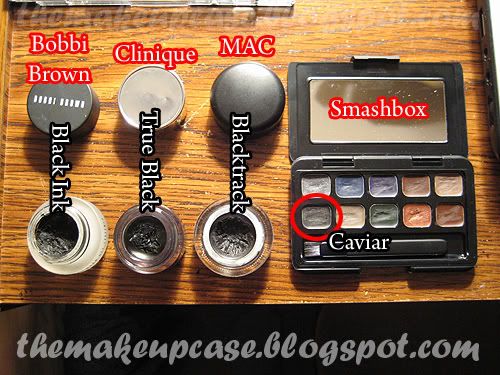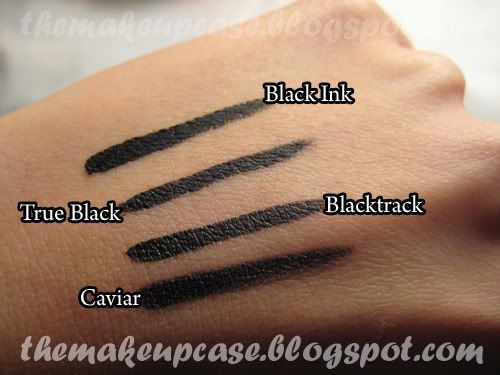 The blacks look a bit shiny.. but I think that was due to the lights! Sorry about that guys, my room isn't the best place in the world to make pictures >_<~
THESE ARE NOT MEANT TO BE ON THE WATER LINE! They do not stay very well on there, and MAC specifically states that it is not safe used on the waterline (and I'd imagine others aren't either)!!!
So, both these liners are mean to be very intensely colored and are more dense than liquid liners. Also, they are supposed to have better saying power than that of liquid & pencil. For people who have problems with either of those 2 liners, I'd recommend giving these a try. They usually come in a pot which means these liners are meant to be used with an eye liner brush. I'll give some recommendations & tell you the different types of liner brushes.
Gel Liner:
Gel-based eye liner. Creates a nice, clean line. Can be smudged for a smokey look but IMO, it doesn't work too well for smudging and smoking out for a smokey eye look.
Cream Liner:
Cream-based eye liner. These ones are meant to be smudged for the smokey eye look. They are really creamy and go on a bit better than gel liners, but they are more prone to smudge under my eye and make me look like a raccoon!!
Gel Liners!
Bobbi Brown Long Wear Gel Liner - 1 Black Ink
: The famous gel liner! Bobbi Brown is famous for this and I must say, this is wonderful stuff!! It's a bit more pricey, but the staying power and color are wonderful!! It doesn't give me raccoon eyes and it really is a true, rich black (instead of a dark gray, which I find to be a common outcome with a lot of black liners..). I get a perfect line every time with this stuff :) It is certainly one of my HG's. I haven't been able to use liquid or pencil liners very often after I tried this stuff. I own this in Mahogany Ink (Deep Brown) and, of course, Black Ink. I love them both~! The formula is a bit thicker/harder than other gel liners, but you still only need a teeny bit to create one full line! I think Black Ink is pretty intense, so I tend to wear the Mahogany Ink for more of an everyday look. You can find these at Holt Renfrew in Canada. I'd recommend this for people with oily lids and have trouble with eye liner smudging under their eyes!!
Price
: $25 CAD
Staying Power
: 5
Color Intensity(Black)
: 5
Color Variety
: 4
There are a mlots for this liner but yet nothing that screams "different"! If you want something with color variety that is more bold/striking, this isn't the best choice. They have the standard black, many, many shades of brown and a few different colors (Violet, Indigo, Ivy Shimmer).
MAC Fluidline - Blacktrack
: This is also a famous product from MAC. It is said to rival that of Bobbi Brown but IMO Bobbi Brown prevails! This texture of this is much smoother than Bobbi Brown's but, unfortunately, it smudges on me like crazy!!! It gives a smooth, rich black line that looks wonderful and perfect.. but after a few hours, I looked like a giant raccoon!! If I use primer, it's a BIT better but still smudges a bit..


Price

: $18 CAD




Staying Power

: 3.5




Color

Intensity(Black)

: 5




Color Variety

: 4




Lots of bold colors for this one! I absolutely loveeeeeeee Blue Peep~ it's so different, but I guess they don't sell it anymore??!! (It's not on the website!!!) Best make a trip down to a MAC counter or freestanding store to ask about it.. Honestly, it's such a wonderful color!! Macroviolet is also a really beautiful deep purple that I'd recommend.





Cream Liners!




Clinique - 02 True Black

: This one comes with it's own brush!!! It's a tiny little brush that is really adorable, unfornately I didn't have a use for it since I love my MAC 263 brush. If you were looking for a one that is a reasonable price and also eliminates the factor of finding a brush, this is definitely worth a try! It really is a "true" black. It's very intense and the consistensy of this is amazingly smooth. Unfortunately, this one smudged on me too :( You get about the same results as the MAC fluidline~ I only own the True Black as of now..




Price

: $16 CAD




Staying Power

: 3.5




Color

Intensity(Black)

: 5




Color Variety

: 2




There's only 4 colors for this one.. True Black, Deep Brown, Smoke Grey, and Black Honey (a deep brown with a hint of reddish undertone). I'd recommend the Black Honey for anyone with a warm complexion, it looks beautiful~





Smashbox Cream Eye Liner - Caviar

: This was my least favourite of all.. you need to get on A LOT of product for this to come out a true black.. in the picture, it took me two layers to get it to match the black of the other three liners and yet it STILL wasn't as black as the others! It smudges really easily.. but it's not completely horrible. I own the palette of cream liners because I wanted to give all the colors a try and, man, was this a horrible purchase. Of all 10 colors, I only really like 2 of them.... I would never recommend this one unless they were looking for a color other than black.




Price

: $27 CAD




Staying Power

: 3




Color

Intensity(Black)

: 3




Color Variety

: 4




This one has a WIDE variety of shades, but nothing is too intense. Lots of colours but they are all pretty subdued. Picasso(Midnight Blue), Midnight Purple, and Midnight Green really disappointed me... I was hoping for more color in them but was left unsatisfied. The Picaso (even with 2 layers!) still didn't strong and same with the Midnight Purple! Maybe if you shined an extremely bright light on them, I don't think you would even see the colours. Midnight green looked like a weird dark green-gray that looked almost black.. so disappointing -___-;


Here is a picture of the other colors in the Cream Eye Liner Palette (my favourites are Lava(Shimmery silver; great for smokey eyed looks) and Deep Bronze (beautiful shimmery bronze)):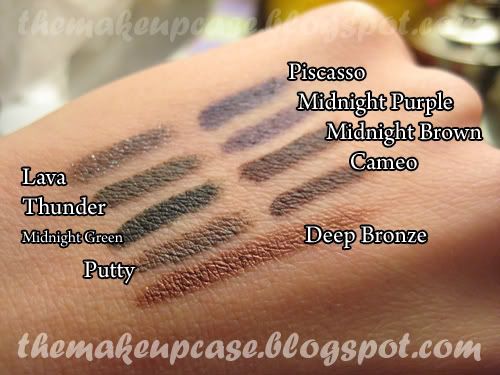 Now... You're probaby wondering what kind of brush to use with these! You have a very good selection. I'll be using MAC & Bobbi Brown brushes as examples (but of course they aren't the only ones that have these kinds of brushes! Look around! You can find many such as Sephora, Quo (in Canada), Urban Decay, Benefit, etc. (

Images taken from MAC & Bobbi Brown websites

)

MAC 266
1)
Angeled Eye liner Brush:
My favourite of all to apply eyeliner! It is absolutely one of the easiest brushes to use! I recommend this one to beginners because it's so fool-proof and accurate! What you would be looking for a brush with stiff, short, angled top. My favourite is the 263 brush from MAC! It always gives me a perfect line and I can really get in between the little spaces in my lashes for a perfectly lined look. Another great one is MAC's 266 brush (which is slightly bigger than the 263).
MAC 209
2)
Standard Eye liner Brush:
Basically this brush looks like the brushes that are included in your bottle of liquid liner. If you are used to those, this one would be an easy one to switch into! It's also very easy to use even for beginners and would be my next recommendation next to the angled liner brush. I own the MAC 209 and use it regularly with gel/cream liners and also cake liners wet (which I only have one... haha). They usually come a bit thicker (MAC 209) and also very thin for ultimate precision (MAC 210).
MAC 212
3)
Flat Definer Brush:
This one is definitely my least favourite.. I wouldn't recommend these to beginners. Basically how you use these is to "push" the liner on. I've never found myself getting a good line with this. It's only good for shoving on some liner and smudging when doing a smokey eye.. otherwise I wouldn't use it. I own the MAC 212 and it's rarely use it...

Bobbi Brown Eye Liner Brush
4)

Rounded Eye liner brush:

The famous gel liner also comes with the famous liner brush. This one comes in the regular side and an ultra fine version for ultimate precision. This one is also extremely easy to use! They're about on the same level of easiness as the angled liner brush. I would also recommend this! Unfortunately, I still prefer my angled one since I find it a lot easier to do a wing with the angle.. This one is still a GREAT brush though! I have the Ultra Fine Eye Liner Brush from Quo and it works awesome (I'd still like to grab the Bobbi Brown Ultra Fine Eye Liner Brush one day.. Yumm~ I love BB). I don't use it as often but it is a wonderful, fool-proof brush as well :)
Well~ That's all I have to say for today!! I hope some people will try out some of these Gel/Cream liners because they are very awesome and easy to use~
I hope you enjoyed this review and please leave comments!!!
Have a good night everyone~
-Much <3
Christina