Hello everyone!
Today, I'll be doing my first review! I am going to be rating the performance of the famous "Diorshow" mascaras.
I'm sure that I'm not the only one who has heard of all the raves about
Diorshow mascaras
.
Well, I was certainly drawn into the hype (especially with my addiction to mascaras...)!
Now I am able to say that I've tried almost
ALL
the Diorshows (Regular Diorshow, Blackout, Unlimited and Iconic) except for the waterproof ones. So, here's my take on the cult favourite,
Diorshow
.
(I'm not entirely sure of all the prices, so please forgive me if there's an error! Also, I don't actually have a picture of them on hand so I'll be using the pictures from the
Sephora
website.)
Rating System:
1 = Horrible
5 = Wonderful
1)
Regular Diorshow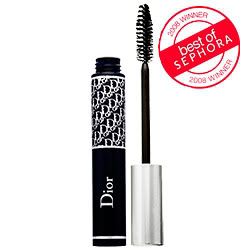 More Info:
Click!
Price: $31 CAD
This is the one that started it all. Diorshow promises dramatic volume, length and curling (more emphasis on the volume though). Honestly, I hate this mascara with a passion. I was gave it a try after hearing such amazing things about it but it disappointed me greatly! Now, I am one of those girls who loves to keep the curl in my lashes, so I'll
ALWAYS
curl them before applying any mascara. This mascara deflated my curl instantly, also it flaked like crazy!!! Talk about horrible! My eyes were so irritated the whole day (and it started to flake only a few minutes after I applied it). I really, really hated the
brush
too. Basically it's a giant brush that is said to grab every single lash; all it did for me was coat my lashes in this flakey mess and also make it hard to use because I have "barely there" lashes.
Ratings:
Smudging:
3
It wasn't horrible, but it wasn't good either! There was minimal smudging; you could barely see it! Easily fixed with a quick swipe of a Q-Tip.
Curl:
1
As I said already, deflated my lashes instantly (INSTANT FAIL!).
Volume:
3.5
It wasn't as dramatic as they make it seem. The volume wasn't like "WOW" but it was definitely there.
Length:
2
Barely any length, but understandable since this mascara is rooted more towards volumizing.
Price:
1
Very expensive for a bunch of nothing.
Overall:
2.5
If I could get past the flaking of this mascara, it isn't a complete waste. I HAVE seen people use it and have beautiful lashes. I'd mostly recommend this mascara ONLY if you naturally have long, semi-curled lashes otherwise, I'd stay away from this! I will
not
be repurchasing!
2)
Diorshow Unlimited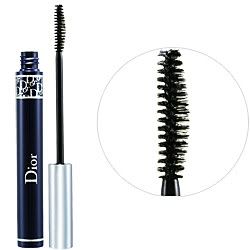 More Info:
Click!
Price: $31 CAD
This one was a lot better than the regular Diorshow. Unlimited is said to give extreme length & curl. Somehow, this one didn't flake like crazy, but did flake a bit. The brush on this one is much more managable than the others and I was quite happy with this one.
Ratings:
Smudging:
3
Same as the regular Diorshow, smudging was minimal.
Curl:
3
Much better than Diorshow. This one actually held my curl up pretty well. Sometimes it would deflate it just a tiny bit, but it was pretty good with holding the curl up.
Volume:
1
If you are looking for a volumizing mascara, don't get this. This is purely for length.
Length:
2.5
Somewhat disappointing... Unlimited was alright with length, but it wasn't as extreme as I hoped it would be.
Price:
2
I think this one was more worth it then the regular Diorshow, therefore it was much more worth the price.
Overall:
3
So it wasn't horrible, but it wasn't bad; it was just in the middle. This one is pretty good but (I repeat!) people who want length probably won't like this. It was nice, but I
don't
think I'd purchase this again.
3)
Diorshow Blackout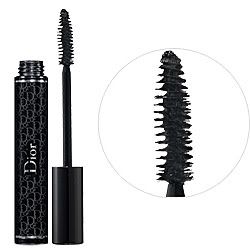 More Info:
Click!
Price: $31 CAD
For this one, they use kohl powder to make this the blackest of black. I liked this one quite a bit~
Ratings:
Smudging:
3
Same as above two.
Curl:
2.5
Curled waaay better than Diorshow, but not as well as unlimited. It wasn't bad with holding the curl up though.
Volume:
3
It really is blackest of black and I think it seems to help with the look of lush volume. It's volume was much better than that of Diorshow.
Length:
2
Not much length, but (again) this mascara is rooted more toward volume.
Price:
2.5
I think this one is more worth it to purchase than the Diorshow & Unlimited.
Overall:
This is one is one of my favourite ones. It did much better than the others, but I still
won't be
repurchasing.
4)
Diorshow Iconic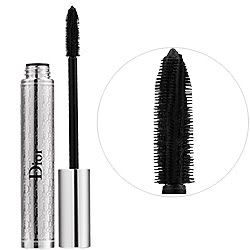 More Info:
Click!
Price: $34 CAD
Iconic is the newest addition to the Diorshow family. This mascara claims to lengthen, lift & separate. Also, this one is supposed to be smudge-proof. Now, this one is a bit different from the others because it uses plastic bristles. The brush is quite big, but managable. I prefer this brush over the others.
Ratings:
Smudging:
4.5
I must say, it really is. There are rare times where this stuff will smudge a tiny, tiny bit, but that's all! All in all, very minimal smudging (I like!).
Curl:
4
This one actually holds my curl. The only problem with this is that if there is too much product on the brush, your curl

WILL

fall, so wipe off as much excess as you can!
Volume:
2
Barely any volume in this one, but that's ok with me!
Length:
3.5
More length than the Unlimited! It was pretty good with length; it wasn't extreme but more of a "I have naturally long lashes" look.
Price:
3
It is more expensive than that of it's sisters in the Diorshow line, but I think it's really much more worth it than any of the others.
Overall:
3.5
This is a pretty good mascara! It gives me a look of natural definition. This is definitely what I would use as an "everyday" mascara. So far, this (and
Blackout
) are the
ONLY
ones that I haven't thrown out due to hate!
Overall, my favourite Diorshow has to be the
Iconic
. Separation, definition and curling? I'm sold! It didn't do much for volume, but it's wonderful if you that look natural but beautifully defined.
Now, for these mascaras I'd probably
recommend anyone who already has pretty, long and curled natural eyelashes
to try this out, otherwise I wouldn't really recommend these to anyone.
I hope you guys enjoyed this quadruple wammy of reviews! Look forward to
MANY
more to come!
Have a wonderful evening~
Much <3
-Christina