新年快乐~
Happy Chinese New Year everybody~
Long time no post!
Sorry about that~ I haven't had any post-worthy looks that I've done in a while...
Today isn't that good either but meh!!
Let's do it!!
I apologize for the sloppiness... It was a bit rushed haha
I didn't even bother doing the brows X___X
Sigh... I can't EVER get a good picture damnit!
Colors are much better seen in real life -_-;
I look a bit disgruntled... it is the end of the day hahah
(ignore the untamed brows!! GROSS >_<)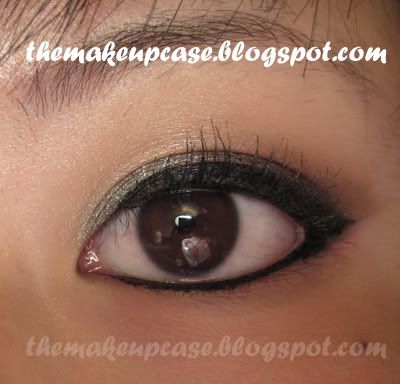 What I Used:
MAC Paintpot in Blackground (used as a base)
Dior Each Reflections Palette - Gold only (inner & middle of the lid)
MAC Eyeshadow in Cranberry (outer corner)
MAC Eyeshadow in Bamboo (entire crease)
MAC Eyeshadow in Black Tied (outer "v")
MAC Eyeshadow in Next To Nothing (brow bone highlight)
K-Palette 1 Day Eyeliner in Black (line the top lid and winged out a bit)
Stila Kajal Eyeliner in Onyx (tightline & waterline)
Shiseido Mascara Base
Clinique High Impact Mascara
Have a wonderful New Year~
I will try to update with more FOTD's/EOTD's~
-Much <3
Christina