Hello everyone!
Long time no post~
I apologize for the lack of posting! School is really stressing me out!!
I recently just did a midterm worth 50% of my mark... and it went so horribly!!
UGGHHhh... Also.. I just got really sick T_T I've lost my voice~ and yesterday was sick in bed all day..
Putting that aside, being the poor student I am, I've been looking into some wonderful drugstore finds that won't the butt of your wallet!
In all honestly.. it's been really hard >_<>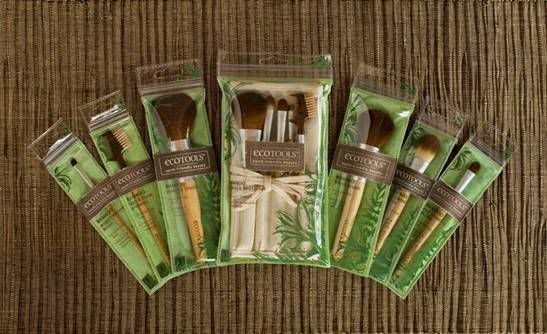 ECOTOOLS!!!
Can I say "WOW"?? Now, I'm always one for really good quality brushes... I can't stand brushes that shed, are scratchy, etc!! Now, I've heard many people rave about this line of brushes but I've never been able to find it here.. BUT~ on my recent trip to Walmart.. I found them and of course I HAD to try them!! The prices of them were amazingly cheap and the quality of them are just beautiful!! They only had a limited selection of brushes, and I ended up buying the powder ($8 CAD), blush ($7 CAD), and eye shader ($4) brushes. I intend to go back for the foundation brush and also try to find other places that possibly could sell them.. I want the kabuki brush also... These brushes are amazingly soft and apply product like a dream~ Also, these brushes are environmentally friendly. The hairs are 100% synthetic (no animal hair!!!), the handles are made of bamboo, and the metal part of the brush is made of recycled aluminum. I definitely recommend these brushes to everyone, they are wonderful!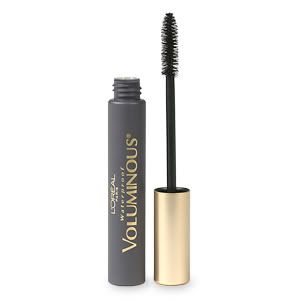 Next up
L'Oreal's Voluminous Waterproof Mascara
.
Now... anyone who knows me knows that I am the biggest mascara freak in the world AND I am also THE pickiest person in the world when it comes to mascaras. ie. If it doesn't hold my curl, it's an instant fail and I will toss that mascara right away xD Now, I've tried everything from high end mascaras (Dior, YSL, Chanel, etc) to drugstore mascaras(Cover Girl, Maybelline, Rimmel, etc) and I still haven't found anything I really *love* yet haha... So for me to actually somewhat like this mascara is a miracle. Now, I've tried this in both the waterproof and non-waterproof versions and found the difference is really big =/ the waterproof version is the definite winner!! It holds my curl, does a decent job of lengthening & volumizing, doesn't (really) clump and doesn't smudge or flake on me. Saying that, it would never be a mascara I would wear out to a party or something, this mascara is for anyone who likes the "natural" look because even though it promises lots of volume, it's not extremely volumizing. Also, if you apply too many coats, it does tend to clump, so apply with a light hand... I only use this for the daytime because it gives me the "I naturally have awesome lashes" look (hahah xD) but still doesn't look extremely dramatic. Anyone who wants a good everyday mascara that has a decent price, I'd definitely recommend this.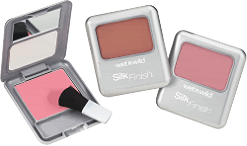 Wet 'n Wild Silk Finish Blush Compact in All Over Shimmer
Now, this one is a highlighter (not really a blush...). It is extremely wonderful~ I don't quite remember the price but I think it was around $5 CAD? Very cheap and works wonderfully! Just be sure to apply with a light hand or else you will end up looking like a disco ball!! The only thing is that the packaging is okay... I have yet to drop it or anything so I am not quite sure of the durability of it =X... also, the little brush that comes with it is completely poo... I just threw it away when I got it (so scratchy and applies wayyy too much product!). I'd recommend using your own brush for applying this =P! You can use this to highlights your cheeks or highlight your brow bone and it fits most skintones (it's kinda a general light beige/pinkish shimmer)~ it's very versatile! If you are new to highlighters and want to give one a try that won't kick your wallet, I'd definitely suggest this one :)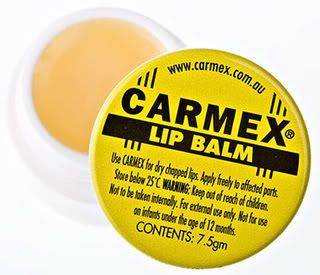 Carmex Lip Balm
I'm pretty picky about my lip balms too (gosh, what am I not picky with >_<) but this one is definitely my favourite! I've tried a lot of lip balms in my day... and I really feel like this one does the job! Currently I own the one in the jar.. Now this one DOES have a really funky smell but it does disappear once you put it on.. but if you're really sensitive to smells, I'd avoid this! Also, one you put it on, it feels, somehow, really minty O_o.. odd, but I love it! haha this lip balm's smell reminds me a lot of the smell and texture of the famous Elizabeth Arden 8 Hour Cream (which smells like poo.. ugh!!) except a lot cheaper. It only cost me $2 CAD!!
Well that's all for now!! I wish I could write a more detailed post with more items.. but I really need to search more!!! .. and I really have to get going on my homework xD!!
I hope this has helped some people who are looking for good products but are on a budget~
What drugstore gems have you guys found??? Let me know!!
Until next time~
Much <3
- Christina